Pin Puck
After taking a few months off for my final high school exams, I'm getting back to working on games!
Pin Puck:
Before I took time off development I started work on a new update, including a brand new single player mode and a bunch of new maps. I even ran a couple of additional tests for new game rules. Below is an early sneak peak at the new Target Smash mode that will be coming in the next update. It'll be Pin Puck's first single player mode, and should contain a decent amount of content to enjoy, for when you don't have any buddies around to play multiplayer.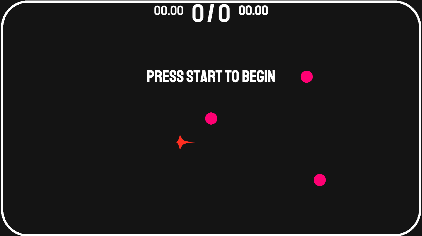 Above: Target Smash sneak peak
Me:
I stopped work on Pin Puck in the lead up to my final exam period despite an itch to continue work throughout the boring weeks of practice exams. After exams I took a much needed holiday to the beach to reset my brain, which actually gave me the time to think of a couple of interesting ideas that I have since been prototyping. My break from working on games has paid off, as my results were strong and I will be able to get into the University course that I want to which I am really excited about.

Prototypes:
I've had a little bit of a poke around with some other ideas for Pin Puck and made some other small prototypes, both before and after exams. Some have been successful and some not so much, but keep an eye out for any other projects that I might release in the coming weeks and months.
The best way to keep up to date is by following my Twitter and itch.io profiles to see new announcements and updates when they come out.
Files
Pin Puck Windows v1.2
23 MB
Sep 01, 2019
Pin Puck Linux v1.2
23 MB
Sep 01, 2019